Hiking on Mt. Hood
The Mt. Hood National Forest offers incredible hiking trails for beginners to experts. Cooper Spur Mountain Resort is a great place to begin your leisurely wildflower hike, for young families, and the serious trekker too, looking to start a small expedition. Cooper Spur Mountain Resort has served as the perfect base camp for many years. Beginning in the spring (May-June) you can find a number of trails within walking distance of the Ski Area and even more just a short drive up the road.

Hiking in the Mt. Hood National Forest

Tilly Jane and Cooper Spur Trail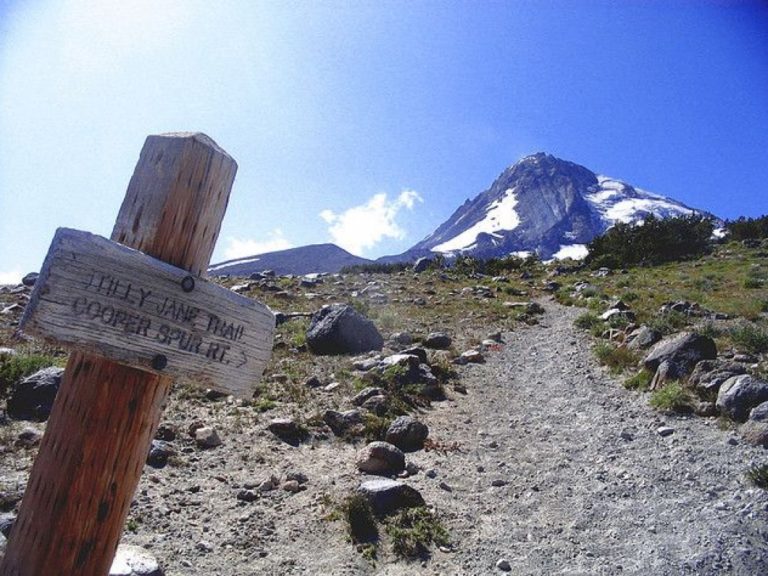 Length: 7.8 miles round trip
Elevation Change: 2600′ gain
Season: Summer thru Fall
Difficulty: Difficult
Permit: Northwest Forest Pass Required
Features:
Begin this unique hike at the Cloud Cap camp area following the Timberline Trail #600. Your walk through dunes of mountain ash and boulders surrounded by constantly changing vistas will be inspiring. The trail is marked by large piles of rocks with wood posts.
You'll cross crystal clear high mountain springs with lush green vegetation and up through a thick grove of whitebark pine and wonderful lupines. Don't forget to look over your shoulder for great views of Mt. Adams and Mt. Rainier.
The vistas just keep getting better on the steady steep climb up Cooper Spur past the old stone shelter built for early mountaineers caught in unfriendly weather.
Soon your trail will lead to the very edge of the Eliot Glacier moraine where unique spectacular views abound in all directions; high above the timberline, among a few hardy alpine flowers.
The remaining mile is very steep with several switch backs over the last quarter mile of the trail. Once you've ascended the summit of Cooper Spur the sky is dark and the views on a clear day extreme. This hike is more than worth the effort.
Tamanawas Falls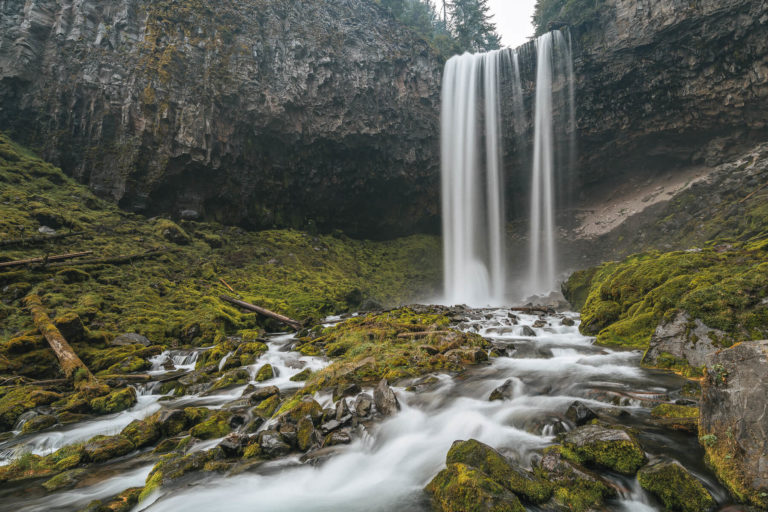 Length: 2 miles round trip
Elevation Change: 400′ Gain
Season: Late Spring thru Late Fall
Difficulty: Moderate
Permit: Northwest Forest Pass Required
Features:
There are a couple of approaches to Tamanawas Falls but this one begins at the Tamanawas Falls Trail head along highway 35. You will turn right on Trail #650 after crossing the East Fork of the Hood River and follow the river for about a half mile. Then the trail takes a sharp left at the point of a cliff with a great view and heads into the Cold Springs Creek Canyon. Soon you'll intersect Trail #650A which is directly ahead.
Continue upstream and cross a fine log bridge over Cold Spring Creek. The trail follows the creek all the way to Tamanawas Falls. About a quarter mile before the falls you intersect Trail #650B. You must continue across a rather shabby trail for a couple hundred feet before regaining the original trail, due to a bridge washout. A couple more bends in the trail and you will arrive at Tamanawas Falls.
Timberline Trail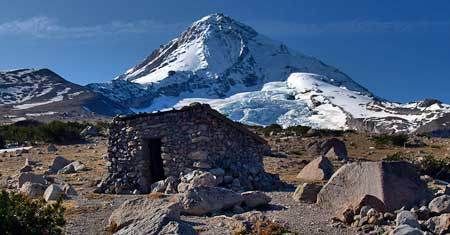 Length: 39.8 mile loop
Elevation Change: High Point = 7300′ Low Point = 3200′
Season: Summer thru Fall
Difficulty: Very Difficult due to length and elevation changes
Permit: NW Forest Pass Required
Features:
The Timberline Trail #600 is an excellent trail that circles Mt. Hood at or near timberline, thus its name. The exact mileage of the trail varies a bit, but it is very near to 39 miles. The trail is almost always very well maintained and in safe condition to hike. The only significant challenge on this trail is the water crossings. Depending on the time of year, the various run-off rivers and creeks that flow across this trail vary greatly. Make no doubt about it, the crossing of these streams can be very dangerous and caution is absolutely essential.
A hiker can choose his direction of walking the Timberline Trail. Most people seem to favor beginning at the Timberline Lodge parking lot and hiking west, or clock-wise. The hike is best done in three days, thus requiring two overnight stays along the trail. This narrative is not meant to offer a complete detailed report as to the best places to camp and other various nuances of the hike, but is intended to simply illustrate the trail for the potential hiker.
You are strongly encouraged to obtain books that detail the hike and give you the necessary tips to make the journey an enjoyable adventure. Contact the forest service or a local book store to find this information