Hood River, the Columbia River Gorge and White Salmon on the Washington side have become a mecca for water sports like windsurfing, white water rafting, kayaking (white water and flat water), canoeing, stand up paddle boarding (SUP) and fishing. There are numerous fishing options including Bass, Trout, Salmon, Steelhead and Sturgeon.
White Salmon River Rafting
The White Salmon River, federally protected as a "Wild and Scenic River", is breathtaking with combinations of classic whitewater and gorgeous scenery. Glacier fed natural springs from Mt. Adams flow into the White Salmon River cascading through narrow cliff lined basalt canyons. The "Lower" sections, opened by the breach of Condit Dam in 2011, allow the White Salmon, for the first time in nearly 100 years, to flow freely to the Columbia River revealing some of the most dramatic scenery of canyons and waterfalls.
Wet Planet provides these adventures which include continuous class III – IV rapids that challenge even the most adventurous whitewater rafting guests. There are plenty of crystal clear pools to catch your breath. You might even catch a glimpse of wildlife in the forests that are only accessible from the river. This incredible whitewater rafting trip is highlighted by a vertical plunge over the legendary 10′ high Husum Falls (depending on water levels)

Rafting on the White Salmon with Wet Planet

Stand Up Paddle Boarding & River Kayaking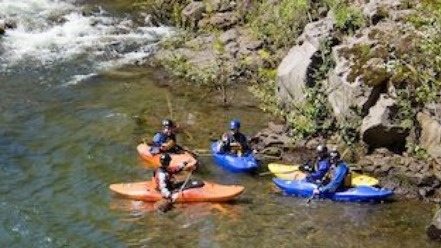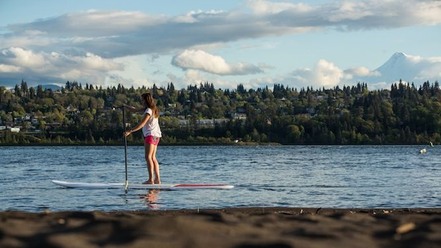 Looking to try some Stand Up Paddleboarding (SUP) or River Kayaking. Gorge Paddling Center offers both SUP and River Kayaking on the Columbia River, in Hood River Orgeon.
Stand Up Paddle Boarding (SUP)
Learn the basics of Stand Up Paddle Boarding (SUP), one of the fastest growing sports, on the Columbia River. SUP combines surfing and paddling into an activity that is adaptable for all ages and skill levels.
Flat water Kayaking
Come enjoy the scenery of the of the Columbia River Gorge with daily guided trips Recreational Kayaking Trips designed for individuals who have paddled very little or never before. Trips are planned according to experience level; relaxing and enjoyable for all paddlers.
Whitewater Kayaking
Great for the adventurous individual looking to navigate their own whitewater rapids lead by experienced guides